Married people in Christian culture like to talk about date night. It is considered vital to a successful marriage and is a frequent topic of discussion.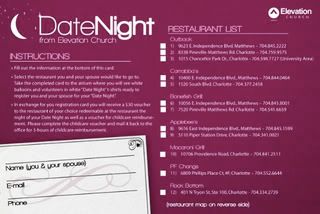 Multi-campus churches often put on programs to help facilitate date nights and the Young Marrieds ministry will advise you to establish a weekly date night early on. There is an 88% chance that the handout on date night from said Young Marrieds church group will picture either

a) a rose and/or rose petals in soft focus,

b) two people whom we presume to be married who are wearing black with narrow-rectangle glasses (the woman will have chunky highlights circa 2004, the man will have a goatee), or

c) a contented white couple wearing Eddie Bauer.


And for those who have not yet been blessed with a spouse, Jesus is always free for date night.